ONLINE OPD CONSULTATION & PAYMENT
Due to COVID19 Pandemic and difficulty in reaching our hospital, Devi Eye Hospital, has started online video consultation /Tele consultation with eye doctor's of Devi Eye Hospital in all three branches namely Koramangala, HSR Layout and Whitefield, so in case you have complaints of Red eyes, Eye lid swelling and any eye emergencies you can get in touch with us through the above system.
Steps:
Call the respective helpline mobile or the land line number of the branch.
Please tell your complaints over the phone and any particular doctor you want to consult with.
Our staff will help you to get in touch with doctor's at the earliest.
Once you get your concern doctor via what's app video or send eye picture through whats app.
The doctor will in turn prescribe medications, to you which will be messaged to your mobile.
The above consultation will come with the fees of Rs.400/- per consultation (Online payable available by scanning our QR code.
For online payment scan our QR code (payable on Google pay, Paytm, UPI , BHIM, NPCI ).
Please not if you want to personally come to our three branches, we are normally open with the timing 9.30am to 6.00pm.
33534
Screenings through outreach camps
Koramangala
#434, 18th Main, 80 Feet Road, 6th Block, Opp. Koramangala Bus Depot, Koramangala, Bengalore-560095
Help line No. : +91 9880570094
view details
HSR Layout
#157/A,Sector-5,Outer ring Road,opp J S S Public School, Near HSR BDA Complex, HSR Layout, Bangalore -560102
Help line No. : +91 7338547333
view details
Whitefield
No. 185, Opp.Thubarahalli Bus Stop, Towards Varthur, Ramagondanahalli Post, Varthur Main Road, Varthur Hobli, Whitefield, Bangalore-560066.
Help line No. : +91 7348846333
view details
I underwent the ICL procedure in 2017 and my vision is perfect. It feels good to get rid of glasses and contact lens forever. Thanks to Dr. Shetty.
- Dr. Deepa
I have been visiting Devi Eye Hospital since last 10 years for treatment to my eyes and also my wife eyes. I found Devi Eye Hospital Doctors and all other staff very professional, caring , honest. One gets complete satisfaction one you get treated in Devi eye hospital. I feel Devi Eye Hospital is one of the best eye hospital at Bangalore. Once you Visit this hospital you are not required to go anywhere for your eye care all problems related to eye can be taken care off under on roof. I recommend one should visit Devi Eye Hospital for any eye related issues.
- Digambar Pralhad Kulkarni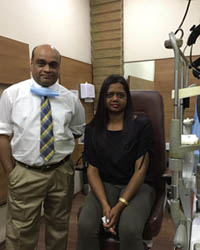 Thanks Dr. Shetty and the staff for the awesome and seamless experience in lasik very much recommended . Thank you.
- Ms. Beata Jane
I am B.G. Govindappa from H.S.R. Layout, I operate both the eyes since 2 months back. Devi Eye Hospital feedback is very nice and good suggestion are given by Dr. Aarthi Venkataraman suggestion is very good and she is operates very good and talking is also very nice & cool.
- Mr. B.G. Govindappa
I was using my glasses and contact lenses for few years. After underwent LASIK surgey my vision is good. Thanks to Dr. Shetty and Ms. Malini who helped me a lot.
- Mr. Joyful.P.Tonsing
I , A.K.Ambravaneswarar aged 73 years underwent cataract surgery for both the yes on 19th Jan & 26th Jan 2019. respectively at Devi Eye Hospital Whitefield branch . Dr. Aarthi Venkataraman did the surgery and both the eyes were checked and viewed at interval on 26th of Feb. I had the final check up and everything was perfect . I was prescribed glasses for reading only since the vision is normal.
Before Surgery I was giving glasses for vision and reading. Now everything is good for me and I am extremely happy with the surgery and thank the Doctors and the other staff for the courtesy shown to me.
- Mr. A. K. Ambravaneswarar